Principal Architect
Recruiter

Location

Manchester, Greater Manchester

Closes

04 Jan 2019

Ref

req3677

Contact

Jayne McKerral

Category

Function

Contract Type

Hours
Principal Architect,

IT Development, Lookers Head Office, Manchester

Contract Type: Permanent

Ref. req3677

Excellent earning potential

Market leading employee benefits
There has never been a more exciting time to become part of Lookers. We are proud to have recently been voted one of the UK's Top Employers and looking after both our people and our customers is at the heart of everything we do.

About the role
Working within the software delivery function of a multi-billion-pound retailer, you will be responsible for defining and owning the strategic architectural vision that will be used to underpin all future development and play a key role in technical solution design and delivery across key projects. You will work closely and collaboratively with the Head of Software Development and solution architecture teams to define the vision, whilst continually looking for opportunities across the project roadmaps to drive adoption and implementation. To be successful in this role, you must be able to understand and clearly articulate large complex application and data environments, design an architecture that can limit the future dependency on them, whilst having the drive, determination and stakeholder management skills to bring it to fruition within a fast-paced retail environment.
Technologies used across the business are primarily from the Microsoft stack including Azure, ASP.Net, Dynamics 365, BizTalk, Profisee (MDS), ASP.NET (MVC) and SQL Server.

Responsibilities
Definition and ownership of the strategic architectural vision supporting project teams through its implementation.
Convert business and technical requirements into a technical solution design that meet the project requirements whilst strengthening the long term strategic goals.
Play a key part in delivery by providing clear specifications to the delivery teams and supporting them through the implementation whilst working within an agile environment.
Plan the technical requirements to transition a design into a working solution.
Work closely with data architects to ensure information requirements are met in solution design.

Qualities we're looking for
You love what you do, have a passion for technology and are up to date with the latest technologies with an emphasis on Azure.
You have a strong track record of complex systems design and experience in implementing architectures that limit the dependency on legacy systems.
You will be comfortable designing solutions at an enterprise scale and will have a delivery focus to turn the vision into reality within an agile environment.
You will work well as part of a team and be comfortable in communicating and documenting solution designs to technical and non-technical colleagues.

Specialist skills
Critical thinking and the ability to challenge ideas and design approaches.
Strong design, analytical and technical aptitude.
Experience of understanding complex business requirements and working with key business and technology stakeholders.
Good understanding of multiple architectural design patterns, SOLID, data integration techniques, SOA and Microservices.
Experienced and comfortable working within an Agile development environment.
Excellent communication and presentation skills and ability to engage with senior stakeholders.

Education and Experience
Extensive hands on experience of architecting and implementing relevant Microsoft technologies with an emphasis on Azure.
Experience of migrating and transforming legacy software solutions to the cloud.
Professional qualification in Computer Science/Studies, or other related discipline.
Why us...?
In recognition of the hard work, flexibility and commitment of our people we have recently introduced a new and improved industry leading benefits package. This includes competitive basic salaries, enhanced holidays that increase with service, critical illness cover after 2 years, one year fully paid maternity leave for women and for some roles a company car and high earning potential through commission or bonus.
As well as working with a great bunch of people you can also benefit from ongoing development with investment in specific brand and management training and the opportunity of a long term career path with one of the UK's Top Employers 2017 and 2018.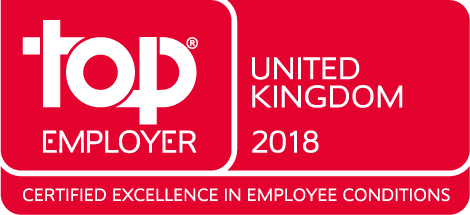 If your application is successful we will conduct relevant employment checks prior to you starting with us. Depending on the role, these could include us verifying your recent employment, address and credit history. We may also conduct a criminal record check and a driving licence check.
Please note: We will close vacancies once the required quality or number of applications has been received.
More searches like this